Thai Frozen Tea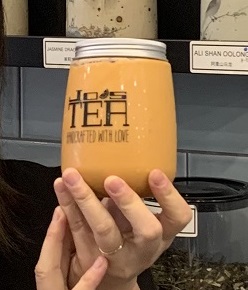 Another day another challenge
Jo's tea in Bristol has enjoyed a successful first year in business and is looking to broaden their range of 'new-generation' tea offers for 2020
Jo had the idea of turning her hugely popular (and highly secret!) recipe for Thai tea into a frozen beverage offer for spring & summer so contacted FizzBang after reading our blog about NPD
This was a challenge as Jo was a little reserved about sharing her own recipe with anyone but after a little cajoling and reassurance we established the key ingredients and got to work.
A little while later… et voila! A frozen tea, perfect in consistency and, most importantly, retaining the colour, character and sophistication of the original product.
If you're in BS1 do pop in Jo's Tea and treat yourself to something really quite special!